Corporate License
---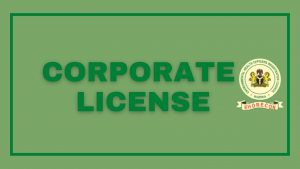 Corporate License
In line with the Mission Statement of the Council, Corporate Licensing is meant to add value to the practice of Environmental Health in Nigeria and eschew quackery.
Environmental Health Council of Nigeria (EHCON) Act No 11 of 2002 (As Amended) and the National Environmental Health Practice Regulation of 2016 empowers the Council to register and License Corporate bodies in the area of Environmental Health Service Provider (EHSP) so as to enable them practice in Nigeria. The Practice License cycle is two years (bi-annual) and it is applicable to all the arears of Environmental Health Service Providers (EHSPs). The service areas include:
Waste Collection
Cleaning Service
Public Health Pest Control
Air Quality/ Noise Pollution Control
Sewage Collection
Sanitary Inspection
PROCEDURES FOR OBTAINING LICENSE BY COPORATE SERVICE PROVIDERS INCLUDE:
Obtain and fill a License form
Evidence of payment of License renewal fee and
Attach Certificate of attendance of regulatory/mandatory workshop.
Click here for Reviewed Services Fees.
You can also click on Portal to register online.