CONTINUING EDUCATION 
---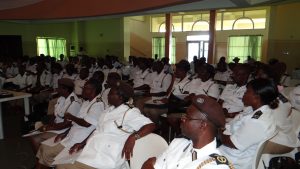 The Act No. 11 of 2002 conferred on the Council the powers to determine what standard of knowledge and skill to be attained by persons seeking to become members of the profession of Environmental Health and to improve those standards from time to time as circumstances may permit. The Act equally mandates the Council to establish and maintain a register of her members in which case members are licensed to practice. This practice license is renewed periodically for members upon production of evidence of updating of knowledge and skill, hence the continuing professional development (CPD) programme being organized and certified by the Council.
It is mandatory for Environmental Health Practitioners in Nigeria to participate in Council approved Continuing Professional Development (CPD) Programme and earn a prescribed Continuing Education Units (CEUs) per each license circle. The CPD enables practitioners to acquire more knowledge and skill and be more competent and productive, have clearer understanding of the professional ethics and value and embrace latest innovations required for improved service delivery to the public. The CPD thematic foci for each year will be published on the Council's website.
Institutions, professional associations and private consultants seeking to organize and conduct CPD, shall apply and obtain approval from the Council before engaging in such programmes. The CPD service providers can equally propose additional themes in which case approval must be sort for and obtained from the Council.  Practitioners shall therefore, ensure that only CPD Programme approved by the Council are subscribed for the CEUs.
For details, please watch out for the GUIDELINES FOR CONTINUING PROFESSIONAL DEVELOPMENT (CPD) POINTS AWARDING SYSTEM FOR ENVIRONMENTAL HEALTH PRACTITIONERS IN NIGERIA.
Click for the Reviewed Services Fees.